COMPOSITE AIRCRAFT CONTAINERS
Composite External Fuel Tanks
COMPOSITE AIRCRAFT CONTAINERS
Composite External Fuel Tanks
Composite External Fuel Tanks
General Dynamics Ordnance and Tactical Systems developed and qualified lightweight external composite fuel tanks for a variety of aircraft (both fixed wing and rotary). Our external fuel tanks are essential to extend mission combat range for military aircraft.
The fuel tanks are fabricated using non-metallic filament-wound materials incorporating sandwich construction. A filament-wound inner liner was developed to be both structural and act as a fuel permeation barrier. Composite construction affords durability that provides extended range without a major weight constraint. The filament-wound outer skin is made of a hybrid glass/carbon construction and incorporates features to provide damage tolerance and protect the contents of the tank.
Our external fuel tanks meet stringent survivability requirements critical in aircraft carrier and combat environments, including flame resistance, ballistic and drop impact, and explosion containment.
Though not currently in production, the development and qualification of composite external fuel tanks represents General Dynamics Ordnance and Tactical Systems' experience in designing composite structures to withstand flight loads and to be damage tolerant.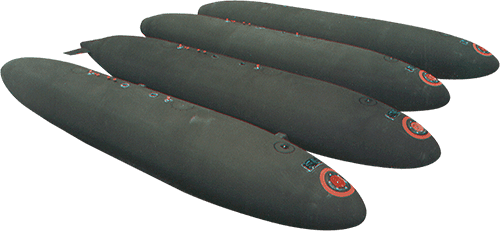 We use cookies to enhance your website experience. By continuing to visit this site, you agree to our use of cookies. Learn More.

   Delivering The Best To The Best®
---
General Dynamics Ordnance and Tactical Systems is a global aerospace and defense company. We are a committed to providing the U.S. military and its allies with an extensive range of overarching products that provide a cutting-edge advantage to our war fighters. A General Dynamics Company.
Corporate Headquarters:
100 Carillon Parkway
St. Petersburg, FL  33716
Main Number: (727) 578-8100