PAN-TILT MOTOR SYSTEMS
Vector-75 Pan-Tilt System
PAN-TILT MOTOR SYSTEMS
Vector-75 Pan-Tilt System
Vector-75 Precision Pan-Tilt System
The Vector-75 is designed to meet the demanding threat identification and deterrent needs of modern border patrol and force protection missions. The Vector-75 offers a unique platform specifically designed for integration of multiple sensors into one, cost effective sub-system. The system's fixed, independent mounting post, provides users the ability to mount ground-based surveillance radars, while independently positioning other sensors.
Vector-75 Advantages:
Long-range precision
Precise and smooth operation at all speeds
Lower cost of ownership
Vector-75 Features:
The Vector-75 combines our high power DC torque motors, high accuracy resolvers and complex control algorithms, to provide exceptional velocity and precision control. The system is available with inertial gyro stabilization, ideal for applications requiring dynamic position control. Internal post wiring and slip rings allow all sensors to be channeled to central connectors located in the base of the unit for simplified integration. Additional features include:
Stationary platform ideal for radar mounting
Direct drive torque motors
16 bit (65,000 cts/rev) high accuracy resolver technology
Multiple payload mounting locations
360° continuous pan angle
Smooth low speed motion to 0.01°/sec
Gyro-stabilization (optional)
Versatile multi-sensor payload configurations, including: Infrared cameras, Long-range visible cameras, Laser range finders, Radars, Acoustic devices, Spotlights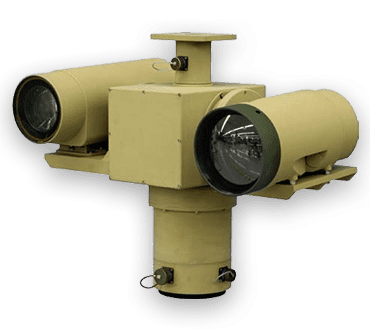 | | |
| --- | --- |
| Operating Voltage | 40-56 VDC |
| Operating Temperature | -40C to+70°C (-40°F to +158°F) |
| Pan Speed | 0.01 to 120°/sec |
| Pan Angle | Continuous |
| Tilt Speed | 0.01 to 120°/sec |
| Tilt Angle | ±45° |
| Resolution | 0.005° |
| Position Repeatability | ±0.05° |
| Position Accuracy | ±0.1° |
| Backlash | None |
| Moving Payload | 100 lbs (50 lbs Max each side) |
| Stationary "Post" Payload | 50 lbs |
| Continuous Torque | 2600 oz-in @ 48 VDC |
| Weight | 75 lbs |
| Environmentally Sealed | IP67 |

Your Mission is Our Mission.
---
General Dynamics Ordnance and Tactical Systems is a global aerospace and defense company. We are a committed to providing the U.S. military and its allies with an extensive range of overarching products that provide a cutting-edge advantage to our war fighters. A General Dynamics Company.
Corporate Headquarters:
11399 16th Court N., Suite 200
St. Petersburg, FL  33716
Main Number: (727) 578-8100