155mm M107 HE
High Explosive
The 155mm M107 HE is a conventional, hollow forged steel projectile filled with comp B high-explosive. A supplemental charge may be fitted to projectiles loaded with a deep intrusion fuze cavity and is removable. Fuzes such as the M739 series can be assembled to the projectile. A swagged gilding metal rotating band encircles the projectile near its base. The rotating band is protected from damage during shipping and handling by a composite grommet which is removed before firing. A threaded, lifting plug closes the fuze cavity to prevent damage to the threads during handling and storage.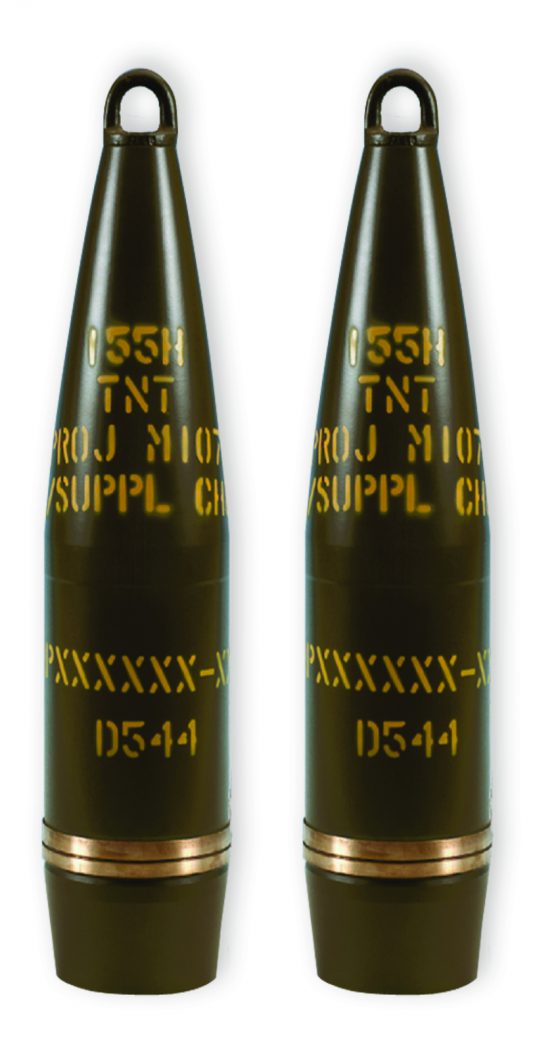 Advantages
Built to US specifications
Conventional standard High Explosive projectile for all current 155mm Howitzers
Low cost munition for general Harassment and Interdiction (H&I) fire missions
Can be loaded to accept both Point Detonating (PD) and Proximity fuzes
Maximum range up to 18.7 Km
155mm M107 HE Technical Specifications
| | |
| --- | --- |
| Weight with Fuze | 95 lbs. (43.2 kg) |
| Length without Fuze | 23.9 in. (607 mm) |
| Body material | Forged steel |
| Color | Olive Drab with yellow markings |
| Explosive Fill | Comp B, 14.6 lbs. (6.6 kg) |
| Packaging | Wooden Pallet of 8 Projectiles |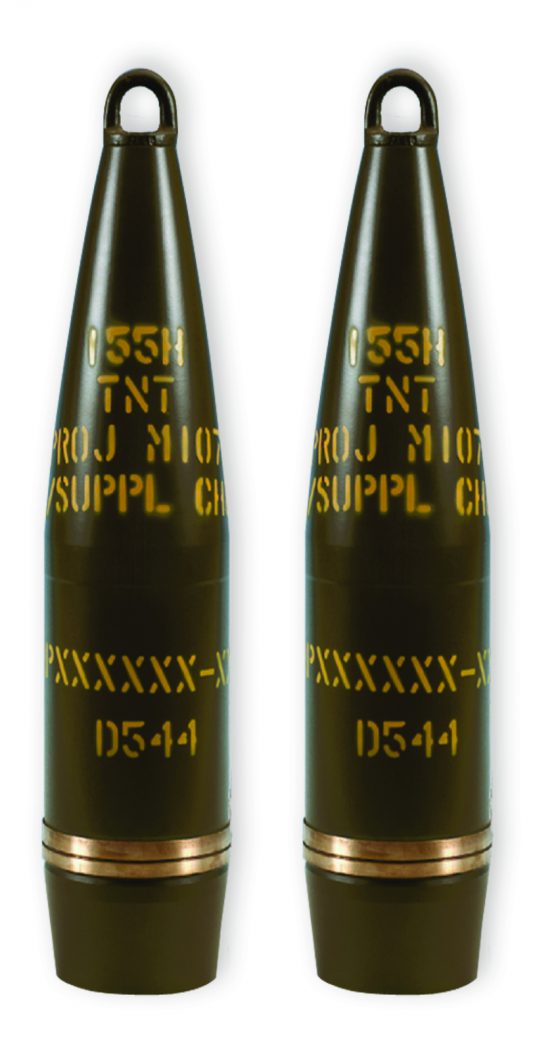 We use cookies to enhance your website experience. By continuing to visit this site, you agree to our use of cookies. Learn More
.

   Delivering The Best To The Best®
---
General Dynamics Ordnance and Tactical Systems is a global aerospace and defense company. We are a committed to providing the U.S. military and its allies with an extensive range of overarching products that provide a cutting-edge advantage to our war fighters. A General Dynamics Company.
Corporate Headquarters:
100 Carillon Parkway
St. Petersburg, FL  33716
Main Number: (727) 578-8100