MEDIUM CALIBER AMMUNITION
25mm x 137 PGU-33/U TPF-T
MEDIUM CALIBER AMMUNITION
25mm x 137 PGU-33/U
25mm x 137 PGU-33/U TPF-T
Target Practice Frangible-Tracer
The 25mm x 137 PGU-33/U TPF-T training cartridge resolves a long-standing ricochet problem associated with air-to-ground scenarios. The PGU-33/U cartridge incorporates a frangible projectile that breaks up into small non-ricocheting fragments upon impact with the target.
The PGU-33/U utilizes a projectile made of unique advanced powder metal material. This material combines the strong and tough properties of typical steels with the brittle and frangible properties achievable with powdered metals. This cartridge is cost effective and provides greater safety while training to the pilot and aircraft.
The PGU-33/U TPF-T utilizes unique powder metal technology to eliminate the serious ricochet hazards that exist with the standard 25mm TP ammunition.
The 25mm PGU-33/U TPF-T replaces the standard steel PGU- 23/B TP. It is compatible with the NATO 25mm gun systems and is a ballistic match to the PGU- 32/U Semi-Armor Piercing High Explosive Incendiary- Tracer and the PGU-20/U API combat cartridges.
The PGU-33/U TPF-T is type-classified for service use in the AV-8/B Harrier platform. The cartridge is fully interoperable in the Marine Corps LAV-AD, LAV-25, the Navy's Mk 38 and the Army Bradley Fighting Vehicle.
Key Features
Ballistic match to PGU-32/U SAPHEI-T, PGU-20/U API and conventional 25mm ammunition
Safe, realistic training for air-to-ground missions
A cost effective training round with frangibility
No ricochet hazard; limited ranges can now be fully utilized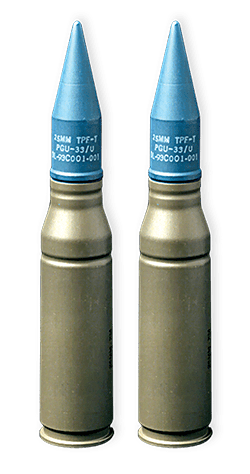 Delivering The Best To The Best®
---
General Dynamics Ordnance and Tactical Systems is a global aerospace and defense company. We are a committed to providing the U.S. military and its allies with an extensive range of overarching products that provide a cutting-edge advantage to our war fighters. A General Dynamics Company.
Corporate Headquarters:
11399 16th Court N., Suite 200
St. Petersburg, FL  33716
Main Number: (727) 578-8100