MEDIUM CALIBER AMMUNITION
40mm M1001 HVCC
MEDIUM CALIBER AMMUNITION
40mm M1001 HVCC
40mm M1001 HVCC
High Velocity Canister Cartridge
The 40mm M1001 High Velocity Cartridge Canister (HVCC), fired from the MK19 Grenade Launcher, allows the operator to radically change use of the MK19 from a stand-off area weapon to a short-range anti-personnel and perimeter defense weapon. The M1001 HVCC is designed for applications such as Perimeter Defense, Close Range Self Protection and Police and Security Actions.
Advantages
Type-classified
Fully functional in the MK19 GMG
Highly lethal against personnel and provides suppression against protected personnel
Provides short-range perimeter defense capability for MK19 GMG
96% Probability-of-Hit on E-type silhouette when firing a 3 round burst against personnel in a 14X14 foot target area at 100m.
Produces a 3 to 4 foot wide dispersion pattern at 50m.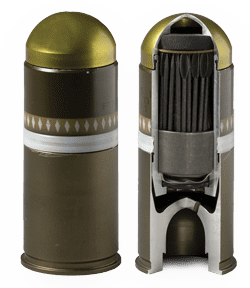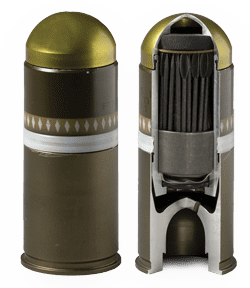 We use cookies to enhance your website experience. By continuing to visit this site, you agree to our use of cookies. Learn More
.

   Delivering The Best To The Best®
---
General Dynamics Ordnance and Tactical Systems is a global aerospace and defense company. We are a committed to providing the U.S. military and its allies with an extensive range of overarching products that provide a cutting-edge advantage to our war fighters. A General Dynamics Company.
Corporate Headquarters:
100 Carillon Parkway
St. Petersburg, FL  33716
Main Number: (727) 578-8100