FORCE PROTECTION SYSYTEMS
Reactive Armor – SRAT II Stryker
FORCE PROTECTION SYSTEMS
Reactive Armor – SRAT II Stryker
Stryker Reactive Armor Tiles (SRAT II)
Light-weight reactive armor tiles for application on Stryker and other medium/light-weight combat vehicles
General Dynamics Ordnance and Tactical Systems has developed the light-weight reactive armor tiles for application on Stryker and other medium/light-weight combat vehicles. Stryker Reactive Armor Tiles (SRAT II) incorporate state-of-the-art technology, while using an insensitive, high-energy explosive.
SRAT II offers a substantial increase in protection levels for troops and equipment against shaped-charge threats.
SRAT II tiles are based on reactive armor technology that has been type classified for production. SRAT II tiles have been  extensively tested. These tests include:
Shaped-charge armor protection
Small-arms sensitivity
Sequential environmental
Transportation tests
Artillery-fragment sensitivity
Sympathetic detonation
Collateral damage
Tile mapping and junction tests
Special safety tests
SRAT II Technical Specifications
| | |
| --- | --- |
| Reactive Armor | State-of-the-art technology combining an advanced reactive element with a new passive element for armor protection |
| Performance | A light-weight solution that can defeat shaped-charge threats associated with an urban battlefield |
| Safety | Has an incident-free safety record in field operations and combat |
| Growth | The weight savings of reactive armor allows the capability to further increase protection without exceeding current weight constraints. |
| Production | General Dynamics Ordnance and Tactical Systems has existing certified production facilities |
| Readiness Level | Non developmental technology is currently available for integration on medium/light combat vehicles and tactical wheeled vehicles |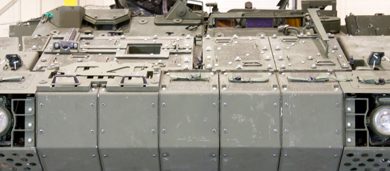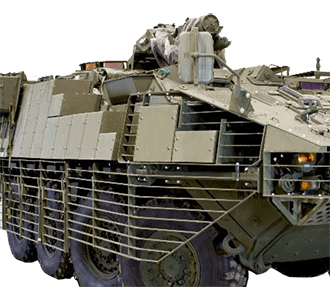 We use cookies to enhance your website experience. By continuing to visit this site, you agree to our use of cookies. Learn More.

Delivering The Best To The Best®
---
General Dynamics Ordnance and Tactical Systems is a global aerospace and defense company. We are a committed to providing the U.S. military and its allies with an extensive range of overarching products that provide a cutting-edge advantage to our war fighters. A General Dynamics Company.
Corporate Headquarters:
100 Carillon Parkway
St. Petersburg, FL  33716
Main Number: (727) 578-8100