NEWS AND EVENTS
The Latest News, Press Releases and Events
NEWS AND EVENTS
The Latest News, Press Releases and Events
LATEST NEWS AND FEATURED EVENTS
General Dynamics Ordnance and Tactical Systems' newsroom is your source for the latest news and information on our products, services and upcoming events.
October 10, 2018
General Dynamics Ordnance and Tactical Systems Delivers First Vehicles for U.S. Army's Ground Mobility Vehicle Program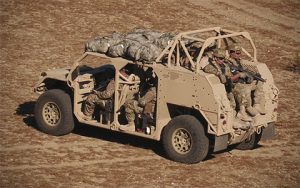 General Dynamics Ordnance and Tactical Systems has successfully completed delivery of the first Army-Ground Mobility Vehicles (A-GMV 1.1) to the US Army.  This marks the First Unit Equipped (FUE) with the new A-GMV 1.1 capability, which was delivered within four months of contract award and consisted of vehicles, spares and training.
The Army Ground Mobility Vehicle fulfills a need in the airborne and air assault operations undertaken by Airborne Infantry Combat Teams. The A-GMV 1.1 is configured to carry an airborne infantry squad of nine paratroopers, and their associated equipment (a payload capacity of over 5,000 pounds.) The vehicle's open design allows for multiple mission roles and can be modified to accept possible kit configurations such as remote and manned turrets, armor and arctic kits if the Army develops a requirement for them in the future. The A-GMV 1.1 can be transported by Army inventory helicopters.
"The A-GMV 1.1 provides the Army with a vehicle of superior off road mobility. We're proud to support the Army in accelerating this capability to the field." said Steve Elgin, vice president and general manager of armament and platform systems for General Dynamics Ordnance and Tactical Systems.
August 21-23, 2018
Space and Missile Defense
Von Braun Center, Huntsville, AL
September 18-20, 2018
Maneuver Warfare Conference
Fort Benning, Georgia
September 25-27, 2018
Modern Day Marine
Quantico, Virginia
October 14-16, 2018
Association of the United States Army (AUSA) Annual Meeting
Walter E. Washington Convention Center, Washington D.C.
VIEW ALL UPCOMING EVENTS
Event
Location
Date
 Air Armament Symposium
 Ft Walton Beach, FL
Nov 5-7
 2019 Events Schedule Coming Soon
Media Inquiries
All media inquiries should be directed to the General Dynamics Ordnance and Tactical Systems Public Affairs Office.
For all other inquiries, please visit our Contacts Page

Your Mission is Our Mission.
---
General Dynamics Ordnance and Tactical Systems is a global aerospace and defense company. We are a committed to providing the U.S. military and its allies with an extensive range of overarching products that provide a cutting-edge advantage to our war fighters. A General Dynamics Company.
Corporate Headquarters:
11399 16th Court N., Suite 200
St. Petersburg, FL  33716
Main Number: (727) 578-8100