PROPELLANTS AND PROPULSION
ARTILLERY PROPELLING CHARGES
MACS M231/M232 and 155MM M203A1
PROPELLANTS AND PROPULSION
ARTILLERY PROPELLING CHARGES
MACS M231/M232 and 155MM M203A1
MACS M231/M232A1
Modular Artillery Charge System
The M231/M232A1 MACS was developed as the propelling charge system for use in all currently-fielded 155mm howitzer systems. It uses a "build-a-charge," incremental-based system, which consists of two configurations of modular charges: the M231, which is used either singularly (Zone 1) or in pairs (Zone 2); and the M232A1, which is used in combinations of from three to five charges to provide Zones 3, 4 and 5.
MACS leaves no residue in the cannon breech and eliminates the need to cut and/or retie bag charges. The system further eliminates safety problems associated with destroying unused propellant. MACS rigid structure, symmetrical shape and low weight support maximum flexibility in tactical logistics.
General Dynamics Ordnance and Tactical Systems is the manufacturer of the M231 and M232A1 Modular Artillery Charge System for the U.S. Army and Marines Corps. General Dynamics produces the M231 and M232A1 MACS under contract to the U.S. Army Joint Munitions and Lethality Contracting Center.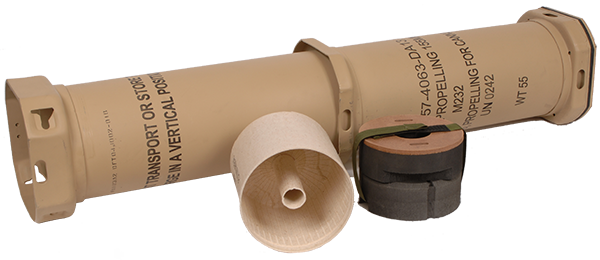 Customizable Charges
Because Every Shot Counts
155MM M203A1

 

Propelling Charge
The M203A1 is a Zone 8S (super) charge designed to supplement the standard M3, M4 and M119 series bag charges and to provide extended range when firing M549A1 RAP and other long range projectiles. The M203A1 was developed specifically for the M109A5/M109A6 (Paladin) SPH and the M198 Towed Howitzer. However, it is interoperable with other similar long-barrelled cannon such as the FH70 and AS90.
The M203A1 is a single increment, base ignited propelling charge consisting of 28 lbs. M31A1E1 triple base solvent stick propellant and a cloth igniter base pad; both are encased in a rigid combustible case. A liner containing a lead foil de-coppering agent and a wear reducing agent is assembled around the propellant bundle inside the combustible case.
Fully assembled propelling charges are packed in a PA 103 welded steel container; loaded containers are palletized for ease of transport and storage.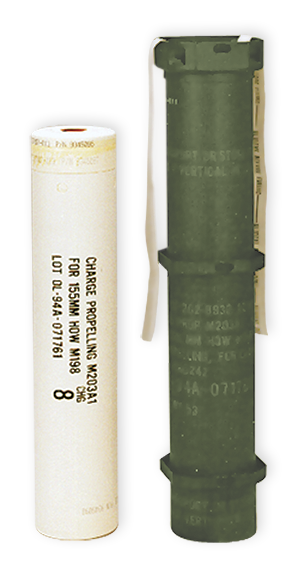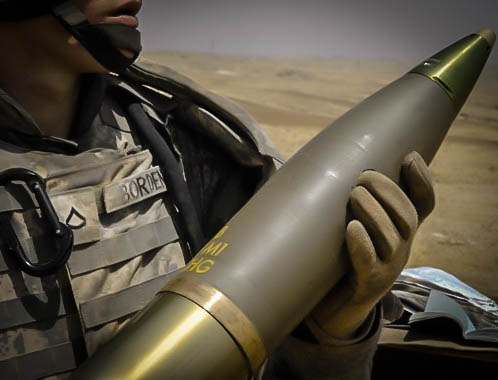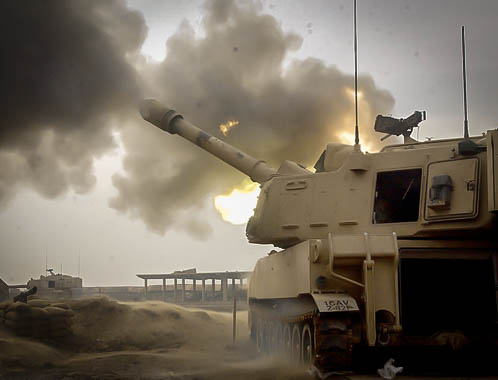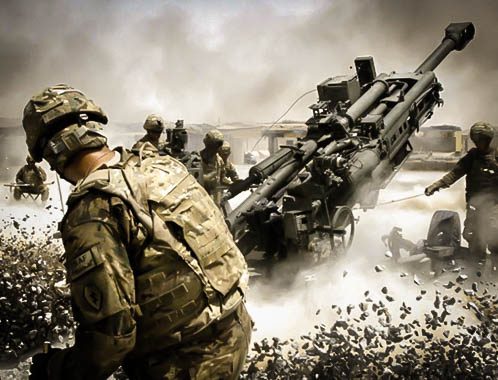 Your Mission is Our Mission.
---
General Dynamics Ordnance and Tactical Systems is a global aerospace and defense company. We are a committed to providing the U.S. military and its allies with an extensive range of overarching products that provide a cutting-edge advantage to our war fighters. A General Dynamics Company.
Corporate Headquarters:
11399 16th Court N., Suite 200
St. Petersburg, FL  33716
Main Number: (727) 578-8100