MUNITIONS
MEDIUM CALIBER AMMUNITION
20mm / 25mm / 30mm / 40mm / 50mm Ammunition
MUNITIONS
MEDIUM CALIBER AMMUNITION
20mm / 25mm / 30mm / 40mm Ammunition
DEFENSE AT HOME AND ABROAD
General Dynamics Ordnance and Tactical Systems produces high-quality, high performance medium caliber ammunition from 20mm to 40mm for a broad spectrum of land, sea and air applications. Our products are built on decades of experience and knowledge in innovative design and development and manufacturing expertise.
20mm – M940 MPT-SD
Multipurpose Tracer-Self Destruct
The 20mm M940 Multipurpose Tracer-Self Destruct (MPT-SD) combines a light armor and high-explosive capability into a single round for maximum terminal effects on target with improved lethality. Developed and qualified for use with the M163 self-propelled and M167 towed VADS and PIVADS (Product Improved Vulcan Air Defense Systems). The M940 is an optimal single round solution for ground-to-air and ground-to-ground applications.
Over 20 million rounds produced for the U.S. NAVY's PHALANX Anti-Ship Missile Defense System.

MK149 APDS
Armor-Piercing Discarding Sabot
The 20mm MK149 Armor-Piercing Discarding Sabot cartridge provides a significant anti-armor capability with optimized ballistic performance and short time-of-flight to target. Compatible with the NAVY's PHALANX Anti-Ship Missile Defense System and the M61 and M197 gun systems.

MK244 MOD O APDS
Enhanced Lethality Cartridge – ELC
The 20mm Mk244 MOD O APDS Enhanced Lethality Cartridge (ELC) with Compacted Ball Powder® Propellant gives the MK15 Block 1B system full effectiveness against fast attack boats, anti-ship missiles, helicopters, small water craft and low flying planes.
20mm x 102 – PGU Suite
PGU-27A/B TP – PGU-28A/B SAPHEI – PGU-30A/B TP-T
The 20mm x 102 PGU Suite have an optimized aero ballistic shapes that reduces time-of-flight and increase velocity at range for increased probability of hit. The PGU-28A/B Semi Armor Piercing High Explosive Incendiary (SAPHEI) provides broad target spectrum capability by combining light armor and high explosive features into a single round. The PGU-27A/B TP and PGU-30A/B TP-T are cost-effective training rounds ballistically matched to the PGU-28A/B.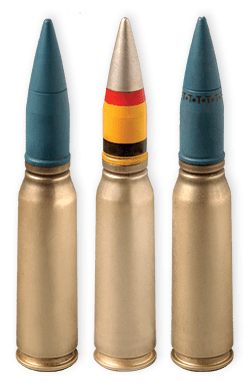 20mm – M50 Series
M53 API – M55 TP – M56 HEI
The 20mm M50 series ammunition is compatible with all 20mm M61, M197, M39 and M621 gun systems worldwide. General Dynamics Ordnance and Tactical Systems M50 Series ammunition is established, proven and reliable ammunition suite.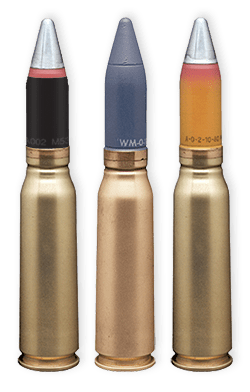 25mm x 137 – MK2 MPT-SD
Multipurpose Tracer-Self Destruct
The 25mm MK2 MPT-SD was developed to be compatible with 25mm x 137 gun systems. It's primary role is for air-defense and surface/shipboard applications, providing for optimum terminal effects on all classes of aircraft, helicopters, surface vessels and light armored vehicles. General Dynamics Ordnance and Tactical Systems has qualified, co-produced and delivered the MK2 MPT-SD for armed forces around the world.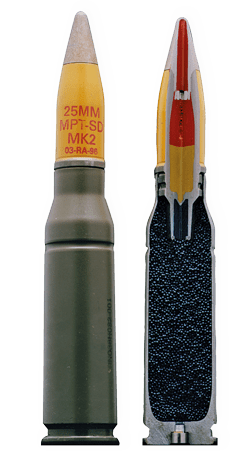 25mm x 137 – Tungsten APFSDS-T
Armor-Piercing, Fin-Stabilized, Discarding Sabot-Tracer
The 25mm Tungsten Armor-Piercing, Fin-Stabilized, Discarding Sabot-Tracer (APFSDS-T) provides superior defeat capability over the M791 APSDS-T round for the Bradley Fighting Vehicle. The long rod tungsten penetrator, of this highly effective anti-armor round, has excellent penetration characteristics with minimal dispersion. It is capable of defeating a wide array of target sets, including most modern armored infantry vehicles and armored personnel carriers. Fully compatible with all platforms using the M242 and KBA-B02 25 x 137mm gun system.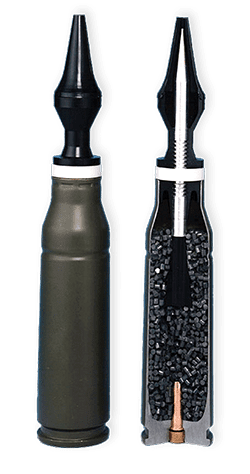 25mm x 137 – PGU-32/U
Semi-Armor Piercing High Explosive Incendiary-Tracer (SAPHEI-T)
The Improved 25mm cartridge, the PGU-32/U SAPHEI-T, was designed to provide aerial and surface gun platforms with improved effectiveness against soft and light armored targets.
The PGU-32/U incorporates multipurpose technology providing: inherent detonation delay; improved graze sensitivity; and light armor capability. The PGU-32/U provides greater capability on target over the current 25mm HEI ammunition.
The PGU-32/U SAPHEI cartridge is fully interoperable in the Army Bradley Fighting Vehicle and the Marine Corps LAV. The PGU-32/U is also type-classified for the AV-8/B Harrier and Mk38 Navy platforms.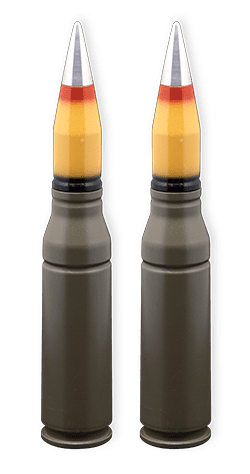 25mm x 137 – PGU-33/U
Target Practice Frangible-Tracer (TPF-T)
The Improved 25mm training cartridge, the PGU-33/U TPF-T, resolves a long-standing ricochet problem associated with air-to-ground scenarios. The PGU-33/U cartridge incorporates a frangible projectile that breaks up into small non-ricocheting fragments upon impact with the target.
The PGU-33/U utilizes a projectile made of unique advanced powder metal material that combines the Strength and toughness of typical steels with the brittle and frangible properties achievable with powdered metals. The PGU-33/U provides greater safety while training to the pilot or aircraft.
25mm x 137 – Bushmaster Ammunition
Established, Combat Proven and Reliable
 The 25mm x 137 Bushmaster Ammunition Suite was designed to defeat an array of threats from dismounted combantants to heavy armor platforms. The suite is operable with M2/M3 Bradley, MK38 Naval Gun, ASLAV, LAV-25/LAV-AD, M113 APC and other light armored vehicles.
Our 25mm Bushmaster ammunition meets or exceed military performance requirements. Over 25,000,000 rounds of this family have been produced with proven success in the field and is in service with the United States Army and Marine Corps.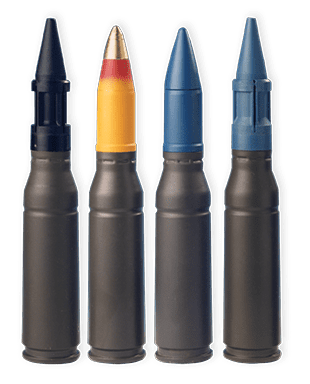 30mm x 113 – Lightweight Ammunition Suite

M789 High Explosive, Dual Purpose (HEDP) – M788 Target Practice (TP)
The 30mm x 113 M789 HEDP and the M788 TP are produced with a steel cartridge case to ensure safety and reliability. The cartridges are fully operable with the AV-30 (M230) Chain Gun turret used on the Apache helicopter. The AV-30 turret can be integrated on a variety of light vehicle applications including Pandur, M113, and Piranha.
The M789 HEDP carries full effectiveness inside lightly protected threats with projectile detonation delay to maximize effects inside the target. The cartridge's demonstrated graze function is effective for area suppression.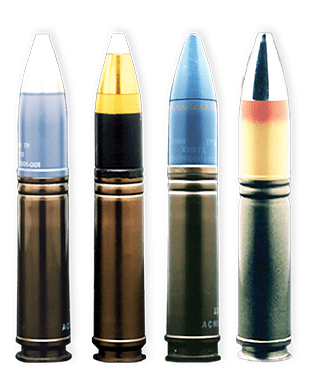 30mm – GAU-8/A Ammunition
PGU-13/B HEI – PGU-14/B API – PGU-15/B TP
General Dynamics Ordnance and Tactical Systems' has produced more than 100,000,000 30mm GAU-8/A ammunition suite. Not only combat effective, but cost-effective, the PGU-15/B is the lowest cost target practice cartridge of this caliber in the world. The 30mm x 173 family has been used in the GAU-8/A Gatling Gun, the Goalkeeper CIWS, and the Bushmaster II. Derivatives of the 30mm X 173 GAU 8/A family have been developed and qualified by General Dynamics Ordnance and Tactical Systems for use in the 30mm Mauser Model F Gun Systems.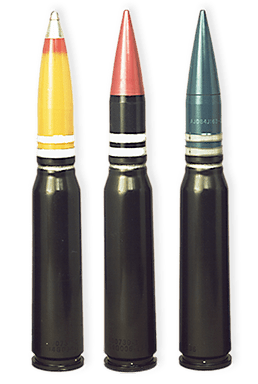 30mm x 173 – XM1170 
Ammunition Series
General Dynamics-OTS has been producing 30mm ammunition for over 40 years. Our experience in design,
development and manufacturing of these cartridges establishes General Dynamics as a globally recognized
supplier of high-quality ammunition.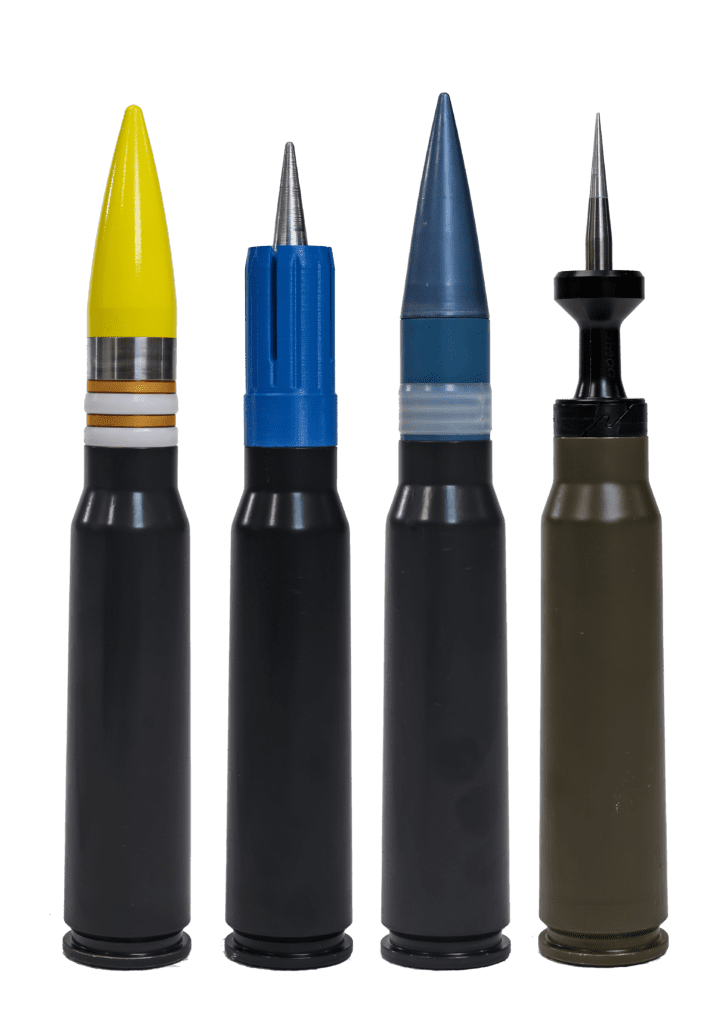 30mm x 173 – Mk44 Cannon Ammunition
MK239 TP-T – MK264 MPLD-T – PGU-13D/B – PGU-15A/B
The Mk44 Cannon Ammunition suite provides high performance ammunition for the Mk44 cannon across a variety of weapon platforms. The MK264 MPLD-T provides light armor-piercing capability with a delayed explosive reaction using a chemical fuze. The MK239 TP-T is a low-cost training cartridge, ballistically matched with the MK264.
The PGU-13D/B uses the M505 fuze, providing a high explosive round that has been used by the US Air Force extensively. The PGU-15A/B is a low-cost training round ballistically matched with the PGU-13D/B.
40mm – M1001 HVCC
High Velocity Canister Cartridge
The M1001 40mm High Velocity Canister Cartridge (HVCC), fired from the MK19 Grenade Machine Gun (GMG), allows the operator to radically change use of the MK19 GMG from a stand-off area weapon to a short-range anti-personnel and perimeter defense weapon.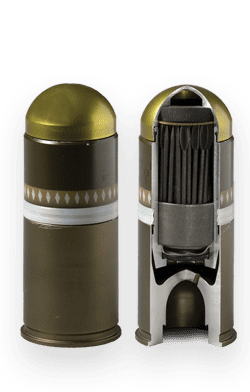 50mm x 228 – Family of Ammunition
High Explosive Airburst munition
The 50mm x 228 family of ammunition is a critical technology development that provides future combat vehicle gunners with greater accuracy, enhanced lethality, and extended range when engaging threats across a multitude of battlefield conditions.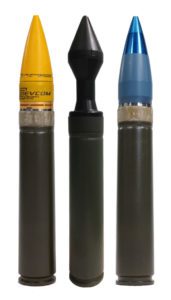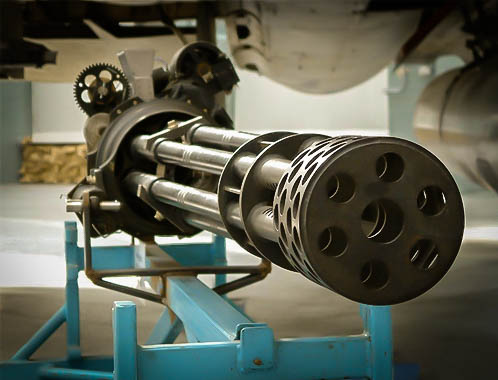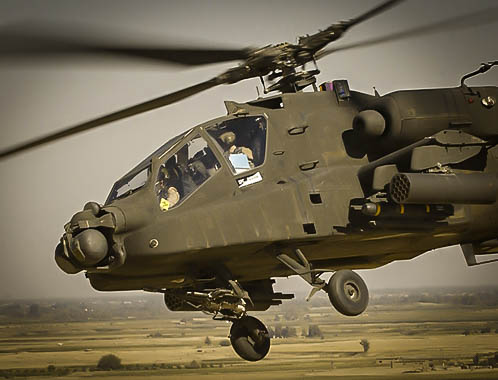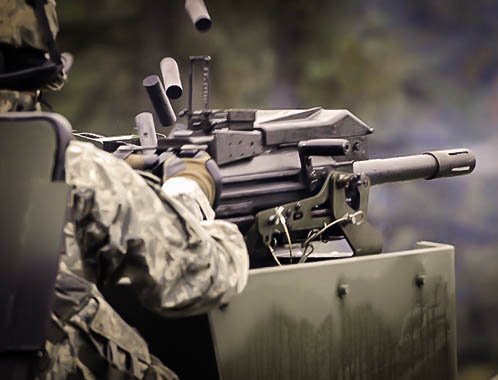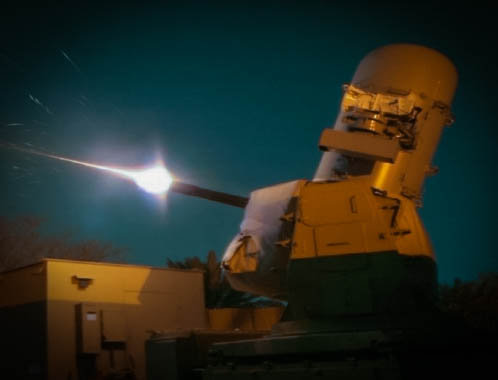 We use cookies to enhance your website experience. By continuing to visit this site, you agree to our use of cookies. Learn More.

   Delivering The Best To The Best®
---
General Dynamics Ordnance and Tactical Systems is a global aerospace and defense company. We are a committed to providing the U.S. military and its allies with an extensive range of overarching products that provide a cutting-edge advantage to our war fighters. A General Dynamics Company.
Corporate Headquarters:
100 Carillon Parkway
St. Petersburg, FL  33716
Main Number: (727) 578-8100