MEDIUM CALIBER AMMUNITION
30mm X 113 Lightweight Ammunition
MEDIUM CALIBER AMMUNITION
30mm X 113 Lightweight Ammunition
30mm x 113 Lightweight Dual Purpose Ammunition Suite
M789 High Explosive, Dual Purpose (HEDP) – M788 Target Practice (TP)
The 30mm x 113 M789 HEDP and the M788 TP are produced with an aluminum cartridge case to ensure safety and reliability and allows for full operability in the 30mm  M230 (AV-30) Chain Gun Turret used on the Apache helicopter.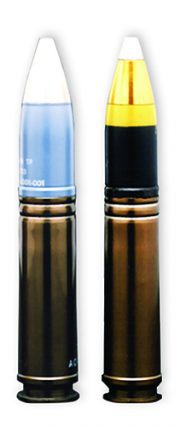 Reliable Fuze Function at High Oblique Impact
Advantages:
 Cartridges manufactured in a modern ISO 9001 compliant facility with automated assembly and inspection equipment managed with proven statistical process controls

Both cartridges loaded with REACH compliant St. Marks Powder® 855 propellant for improved high temperature storage performance and decreased muzzle flash

M789 provides proven armor piercing capability with lethal fragmentation using the low impulse 30mmx113 M230 automatic cannon

Dual purpose warhead for anti-personnel and armor defeat

Effective Fragmentation

Proven Armor Penetration

25.4 mm RHA 50˚NATO 500 Meters

M788 is a ballistically matched training round to the M789.
The 30mm X 113mm lightweight ammunition is compatible with the AV-30 (M230) Chain Gun turret. The AV-30 turret can be integrated on a variety of light vehicle applications including Pandur, M113, and Piranha.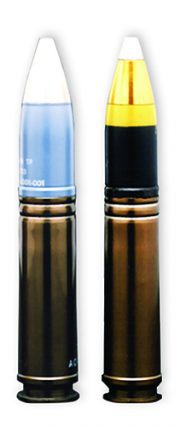 We use cookies to enhance your website experience. By continuing to visit this site, you agree to our use of cookies. Learn More.

   Delivering The Best To The Best®
---
General Dynamics Ordnance and Tactical Systems is a global aerospace and defense company. We are a committed to providing the U.S. military and its allies with an extensive range of overarching products that provide a cutting-edge advantage to our war fighters. A General Dynamics Company.
Corporate Headquarters:
100 Carillon Parkway
St. Petersburg, FL  33716
Main Number: (727) 578-8100