ACTIVE PROTECTION SYSTEMS
Iron Fist (IF)
ACTIVE PROTECTION SYSTEMS
Iron Fist (IF)
Iron Fist Active Protection System
Detect, Track, Neutralize
General Dynamics in cooperation with Elbit Systems takes active protection to the next level with the new Iron Fist (IF) Active Protection System (APS). IF is a generic add on configuration applicable for all kind of armored platforms from light 4×4 vehicles up to medium and heavy Armored Fighting Vehicles (AFV).
The System's hard-kill concept is based on intercepting the threat by launching a small warhead and initiating it at a safe distance from the protected platform, at a precisely calculated moment, and defeating or destructing the threat through a shock-wave effect.
Most Capable Active Protection System to Defeat the Widest Array of Threats
Easy Integration  •  Minimal SWaP on Vehicle  •  Open Architecture and Modular Design  •  Reliable Threat Detection and Defeat
IF provides 360-degree protection coverage for close range scenarios in both open terrain and urban environments. Through its two sensing techniques – a search-and-track radar and staring infrared sensor – the System offers a unique Situational Awareness capability with robust and reliable threat detection, accurate trajectory prediction as well as short reaction time in all terrain environments. The revolutionary design of the IF minimizes the dimensions of the APS while maintaining combat efficacy and force protection.
The system's scale facilitates rapid integration onto the full range of combat vehicles, and its dimensions open new possibilities to upgrade legacy platforms where size, weight and power constraints are a challenge.
Operational Characteristics:
Protection against ATRs and ATGMs

Short reaction time for short range ATRs engagement

360° coverage, high elevation angle

Two independent sensing techniques (RF and IR)

Operational in both open terrain and urban environments

Situational Awareness based on system's IR and radar sensor suite

Hostile fire detection (HFD) and small arms ammunition burst detection
Integration features:
Lightweight (220 lbs per side, 551 lbs for overall platform)

All-in-One pre-calibrated unit

Bolt on, no penetration to vehicle structure

Low power draw from the vehicle

Small dimensions and low silhouette
Safety:
Small blast interceptor, minimal collateral damage

Insensitive munition (IM) explosive

Hardware and software mechanisms for preventing false fire

Fuzing redundancy and fail-safe initiation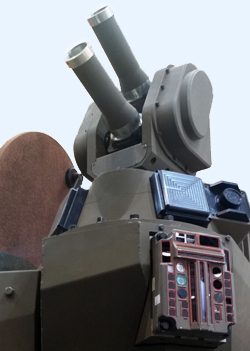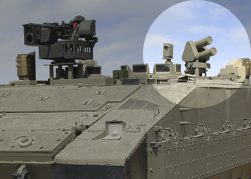 We use cookies to enhance your website experience. By continuing to visit this site, you agree to our use of cookies. Learn More.

   Delivering The Best To The Best®
---
General Dynamics Ordnance and Tactical Systems is a global aerospace and defense company. We are a committed to providing the U.S. military and its allies with an extensive range of overarching products that provide a cutting-edge advantage to our war fighters. A General Dynamics Company.