PAN-TILT MOTOR SYSTEMS
Vector-20 Maritime Pan-Tilt System
PAN-TILT MOTOR SYSTEMS
Vector-20 Pan-Tilt System
Vector-20 Stabilized Maritime Pan-Tilt System
The Vector-20 is a rugged, aerodynamic precision pan-tilt system able to deliver stable, precise imagery in rough seas and at high speeds. Designed to handle the intense jostling and vibration in marine environments as required by special operations forces, the U.S. Coast Guard, harbor patrol, law enforcement officials, and commercial and private mariners. Able to accommodate a wide variety of EO/IR sensors, the Vector-20 delivers an affordable, versatile and stabilized motion control solution.
Vecter-20 Advantages:
2-Axis gyro-stabilization
360° continuous pan rotation
Smooth low speed motion to 0.01°/sec
Built-in control electronics and gyros
Vector-20 Features:
The Vector-20 leverages our deep expertise in motion control systems, from inertial gyro-stabilization to high-torque motors and precision resolvers. The Vector-20 provides unmatched control and accuracy with zero backlash and lower total cost of ownership. With an integrated slip ring and built-in control electronics, the system provides precise, smooth motion at all speeds. The system is easily integrated onto existing platforms. Additional features include:
Aerodynamic housing supports wide range of cameras and/or payloads, up to 20 pounds (9 kg)
Ruggedized, sealed and marinized to ensure performance in harsh marine environments and winds up to 100 knots
Maintains line of sight independent of the boat's motion
Line of sight can be controlled to turn with the boat while maintaining inertial-stabilization
Direct drive technology provides maintenance-free operation with zero backlash
Compatible with General Dynamics thermal imagers and other available sensors
General Dynamics Ordnance and Tactical Systems designs and manufactures a full portfolio of high-performance camera systems and components that provide our customers the clarity, accuracy and reliability to successfully complete their mission. Leveraging our custom motor and resolver technologies, we design and manufacture maintenance-free, precision pan-tilt systems with zero backlash and lower total cost of ownership.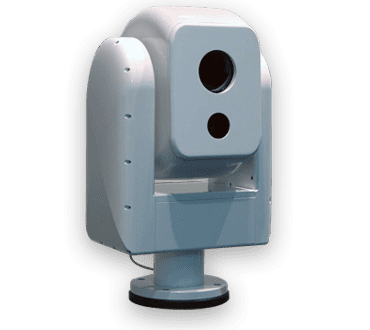 | | |
| --- | --- |
| Payload | 4-20 lbs (1.8 – 9 kg) |
| Pan Speed | 0.01 to 60 ˚/sec |
| Pan Angle | 360˚ continuous |
| Tilt Speed | 0.01 to 60 ˚/sec |
| Tilt Angle | -90˚ to +60˚ |
| Stabilization | <2 mrad RMS |
| Position Accuracy | ±0.1˚ |
| Position Repeatability | ±0.02˚ |
| Resolution | 0.005˚ |
| Duty Cycle | 100% in each axis |
| Continuous Torque | 450 oz-in @ 24 VDC |
| Backlash | None |
We use cookies to enhance your website experience. By continuing to visit this site, you agree to our use of cookies. Learn More.

Delivering The Best To The Best®
---
General Dynamics Ordnance and Tactical Systems is a global aerospace and defense company. We are a committed to providing the U.S. military and its allies with an extensive range of overarching products that provide a cutting-edge advantage to our war fighters. A General Dynamics Company.
Corporate Headquarters:
100 Carillon Parkway
St. Petersburg, FL  33716
Main Number: (727) 578-8100